Conservatory Repairs
Warwick Window Repair are a friendly family run company with the knowledge and skills to offer reliable conservatory repairs. Use our online price generator to get a quote on our conservatory repairs.
Why Choose Warwick Window Repair?
We have over four decades of experience in the double glazing industry and have established ourselves as experts in the industry. We offer conservatory repairs to homeowners in Warwick, Royal Leamington Spa, Solihull, Kenilworth, Wellesbourne and the Warwickshire region.
Our team are equipped to repair a wide range of issues associated with conservatories. From glass repairs to locks, handles and hinges; our friendly team have the technical expertise to have your conservatory repaired in no time. Whatever condition your home extensions happen to be in, rest assured that we can help.
Our quality workmanship, expertise and management skills have helped us earn repeat business and garner respect from our peers. It doesn't matter how complex, large or unusual your conservatory is, our team can help to repair it.
You'll not find a more efficient conservatory repairs service elsewhere, as we guarantee repair work that is in line with the requirements of FENSA. All repair work will be carried out by our efficient team of experienced specialists, so you can rest easy knowing that we carry out quality repair work.
Why Repair Your Conservatory?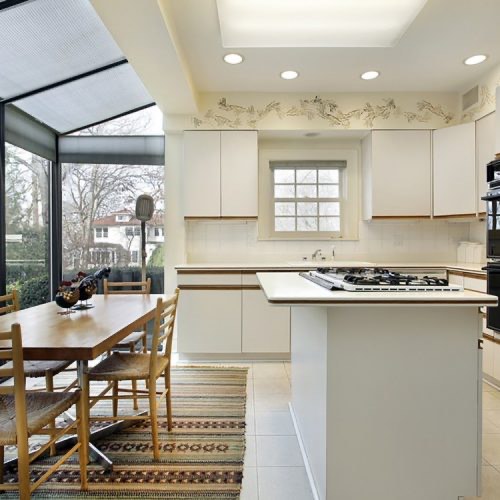 An old, outdated and tired conservatory can become an unusable space. Is your conservatory too hot and study in summer yet too icy in winter? Conservatory repairs could help breathe new life into a space that was previously too uncomfortable to use.
Like any other double glazed window, conservatory glass can wear down over time. New double glazing can refresh the way your conservatory looks and performs. We also recommend repairing your conservatory windows instead of replacing the entire structure.
By improving the energy efficiency of your conservatories, you will better insulate the space. Our conservatory repairs could also help minimise your heating bills as the extension will better retail year. Enjoy a comfortable home and reduce your carbon footprint.
Is your conservatory too loud to work, socialise or relax in? Don't let external noise affect your workday or drown out the television. By repairing your conservatory glazing, you can help improve the acoustic insulation of your home. Conservatory repairs can help minimise the sound of traffic, noisy neighbours and temperamental weather conditions.
The biggest benefit of conservatory repairs is how cost effective it is. It's much most affordable to repair the glazing, rather than purchasing and installing entirely new frames. Repairing existing double glazing is much more sustainable, as well as being much friendlier on the budget.
You can save plenty lot money, minimise disruption inside your Warwick property and lower your heating bills when choosing conservatory repairs over reinstalling a whole new structure.
Repair Your Conservatory Hardware
We also offer hardware repairs on conservatories. Our conservatory repairs service includes assessing and repairing locks, hinges, handles and Euro cylinders alongside cosmetic repairs, adjustments and mechanism replacements. These accessories, when repaired, can improve the security, aesthetics and durability of your extension.
If you are having problems opening or closing the windows or doors in your conservatory, you may not need to replace the whole system (although we do offer that service). A simple adjustment to your hinges can often return the hardware to its peak working condition.
We want to make sure you are maintaining the highest standard of security, which is why we work with market leading suppliers like Ultion. Our conservatory hardware repairs comply with the latest European security standards.
Conservatory Repair Prices Warwick
If you have an underperforming conservatory that needs repairing, get in touch with us today. Request a zero obligation quote using our innovative online quoting engine and a member of our friendly team will get back to you as soon we can. Simply select the repair project you need our services for and enter your contact details. This tool is easy to use and completely free!
Our team are on hand to answer any queries you may have about our conservatory repairs or to give you a bespoke price. Send us your queries through our online contact form, and we will get back to you as soon as we can. If you prefer to speak to someone in our team directly, please give us a call on 01926 497 645 and have a chat with us. We look forward to helping repair your conservatory installation.
Categories: Warwick Window Repairs
Tags: conservatory repairs, Double glazing repairs, hardware repairs